One of the most common floor coverings used in the home is carpets and these come in a range of styles, colors and patterns. However the fibers in these can easily trap dirt, dust and pollen and it is important to clean them on a regular basis. This can help them retain their looks and also keep your home a healthier place to live. There are many carpet cleaner models available and these vary in their effectiveness at cleaning a carpet.
Manual Cleaners

A carpet cleaner comes in a variety of styles and in its most basic form it comprises a manual carpet sweeper. These typically feature rollers and brushes and by pushing these over the surface of the carpet they pick up loose dirt and dust and retain this in a collector bin. On completion the collector bin can then be detached and the contents disposed. These are relatively inexpensive devices to purchase costing around $30 to $70. Some of the manufacturers that produce these include Leifheit, Ontel and Shark.
Vacuum Cleaners
While manual sweepers are still available, most people these days will likely go for the convenience of a vacuum cleaner and this type of device is common in most homes with a carpet. It is an electrically powered carpet cleaner which uses suction to remove dirt and dust from a carpet. It is easier to use, takes less effort and is typically more effective than a manual sweeper. There are many manufacturers that produce vacuum cleaners with some of the more well known brand names including Hoover, Dyson and Dirt Devil.
Bagless Designs
While some vacuum cleaners need a bag inserted to collect the dirt, many these days feature bagless designs with a compartment collecting the dirt and being detached to empty it. Many also have filters which help to capture pollen and mold which can provide your home with cleaner air. Smaller hand held vacuums can be purchased for around the$30 to $50 mark. Larger upright cleaners can vary in price from around $50 to $350 depending on the brand name and features it incorporates.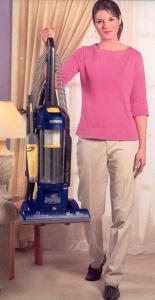 Steam Cleaners
While vacuums are the most common carpet cleaner used, if you are looking to deep clean your carpet and remove more stubborn dirt and stains a steam cleaner is the best option. While these were once the preserve of professional cleaners, the price of these is now such that home owners can easily own them. While steam cleaning is not something that is typically done on a daily basis, cleaning your carpet regularly with a steam cleaner will help it retain its looks and keep it in better condition. Steam cleaners get deep into the fibers of a carpet and can remove dirt, pollen and mold that other cleaners would leave behind. Some of the well known manufacturers that produce these include Bissel, Hoover and Eureka. Both hand held and upright models are available with costs for these ranging from around $100 to $500.
Advantages
The advantages of using a carpet cleaner are many and they will ensure that your home is a healthier environment in which to live as well as keeping your carpet in excellent condition. It is therefore generally advised that any home with a carpet has a cleaner available and this is a common sense thing to do.